Your reputation relies on the efficiency of your processes and that relies on your software
We know that you trust Achiever Software to run your day-to-day activities. You rely on it to hold your most sensitive and valuable data securely. And we know that you may also be using the software to feed data into your other essential applications. That's why, when issues do occur, our Achiever application support team are here to help get things back up and running as quickly as possible.
We know that you may not be able to even function if these systems stop working. Never mind all the difficulties, increased workload and general inconvenience this can cause.
That's why our application support team and account managers get to know how you work, what matters to you and how this affects you if there is a problem.
We work tirelessly to resolve critical issues to limit your system's downtime and get you back to business as usual.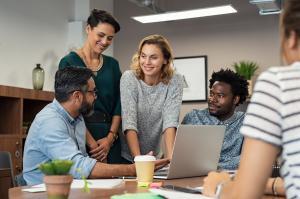 The team that starts with you, stays with you
We involve our application support team in your project right from the beginning. They work closely in the background with our business analysts and development teams to get a full picture of you.
Our business analysts are never too far away to assist our  Achiever application support team on queries relating to your unique set up.