In the laboratory the term 'workflow' defines the steps and processes scientists follow when carrying out tasks. Often taking the form of standard operating procedures (SOPs) lab workflows are designed to instil consistency and standardisation as well as encourage best practice. Workflows can be configured in modern laboratory information management systems (LIMS) so you can follow your lab processes within the software. When these workflows are well-defined, optimised, and where relevant automated, they can help increase your lab's efficiency and reproducibility.
What's more, ensuring everyone is following defined lab processes helps you meet regulatory compliance such as GxP, GCP (Good Clinical Practice) and ISO standards (ISO 17025, ISO 9001, and ISO 15189). Helping promote quality across your lab operations.
What are workflows in a LIMS?
In a LIMS like Achiever Medical, workflows are pre-configured operations that guide users step-by-step through a series of tasks. These predefined workflows include frequently managed activities such as registering a tissue sample and creating sample aliquots through to the less routine tasks of withdrawing patient consent. They can prompt the user to enter critical data at specific points in a process, take the user to the next step or automatically insert data values based on options the user has selected.
Why use workflows in a LIMS?
Spreadsheets and databases primarily record lab data. A LIMS also enables you to capture data records individually or as part of a process that comprises a series of steps. This approach to data management has multiple benefits that can include:
Improving data quality by prompting for mandatory information at critical points in the process
Improving efficiency by automatically calculating and entering data based on predefined rules
Increasing skills by guiding users through processes
Improving productivity by automating repetitive tasks
Increasing evidence for compliance with regulatory requirements such as the HTA and MHRA by ensuring users are following best practice
Improving traceability and as a result, reproducibility, by providing an electronic audit trail and chain of custody
However, it's important to recognise that simply mirroring existing inefficient processes in LIMS will not necessarily make them effective. Before digitising your processes in a LIMS you should review workflows already present in the LIMS as well as your existing SOPs to identify any potential improvements.
Defining laboratory workflows in a LIMS
Modern LIMS, like Achiever Medical, have a suite of preconfigured workflows to manage the most common lab processes. What's more, you can configure these or create new workflows to meet specific lab needs. Achiever Medical LIMS version 5.6, planned release later this year, includes lab process design and execution functionality to provide a visual representation of each workflow.
Also, before configuring new workflows in a LIMS it's important to understand what already exists in the system as standard. This approach enables you to leverage benefits gained by the LIMS' developers from working with other labs. It can also potentially reduce implementation costs and timescales.
When designing workflows be realistic about how you actually work and which workflows when optimised and digitised will have the biggest impact. To learn more about putting together your requirements for a LIMS in your lab read our '5 Essential Tips when Specifying Your LIMS User Requirements' blog.
Connecting data, instruments, and systems
Often lab process will include new data being captured, generated, and an output. One such example is where you register a sample, then split it into aliquots and generate 2D barcode labels. These inputs and outputs can take different forms. The user may run workflow to register the sample and create aliquots. The creation of aliquots workflow could include the LIMS automatically outputting data to an instrument and then consuming the data generated by the instrument. Finally, the user runs a workflow to generate barcode labels for the samples.
These connected workflows can offer significant benefits through automation with labs seeing improvements in both data quality and productivity. However, the way that you implement this automation could impact its efficacy and lead to increased workloads and errors. This is especially true where users manipulate data and files before the instrument and/or the LIMS can consume them.
Measuring the benefits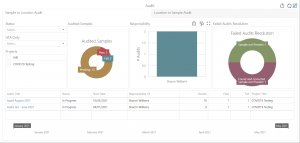 Monitoring and measuring your lab's performance before and after implementing any new workflows will help you assess their benefits. So, starting with the benefits you want to achieve and detailing how you're going to measure them should be the very first step when reviewing and creating your workflows.
Achiever Medical LIMS provides a library of dashboards through its analytics and data visualisation tools that enable you to track your lab's performance over time. In order to stay relevant your processes will evolve over time. Being able to configure laboratory workflows in your LIMS to reflect these changes is critical. You can also see the result of any changes on the dashboards. What's more, you can create new dashboards to track new processes.
Learn more about workflows - 5 ways a LIMS supports laboratory process improvement
A laboratory information management system (LIMS) can play an essential role in your lab. One that goes beyond sample and lab data management. A LIMS can streamline and optimise your laboratory processes, leading to improvements in productivity, quality and efficiency.